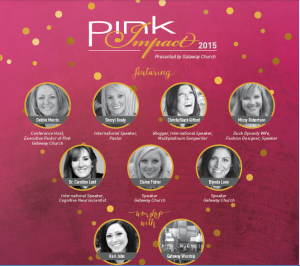 Pink Impact 2015

Friday, June 5th 6:30-9:30 and Saturday, June 6th 9:30am-6pm
Registration $30 and includes lunch on Saturday
Call 870-223-6393 or 501-282-4216 for more information
Dinner and Devotional
Join us every 2nd Monday of the month for an evening of great food and fellowship. The dinner is provided by several of the ladies each month and we generally have a guest speaker bring a devotion after dinner. Some of our very own church members have given their personal testimony! What a great way to get to know each other and deepen our relationships with each other and Christ.
The month of December we are having our Christmas Party! Bring finger foods and a gift to play Dirty Santa ($25 limit on the gift, please.)
WOGGLE
WOGGLE is Pleasant Hill Baptist Church's ladies night out ministry. Women of God Growing, Loving and Encouraging (WOGGLE) is an outreach program to fellowship, console, comfort, confide, and build personal relationships with women in our church family and the community. Once each month, the ladies of Pleasant Hill meet to relax from the business of everyday life. Ladies' Night Out is often at a local restaurant, but other out­ings are planned as well. WOGGLE allows Godly women to lift one another up on a more personal level so we can live a more abundant life in the name of Jesus, and experience all that God has for us.